---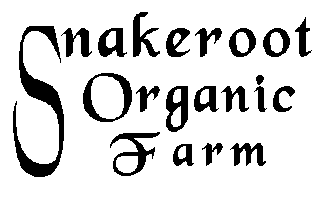 ---

---
…and now for something completely different…
---
At dawn
Canoe bow waves are quickly lost
on the shoreside
But go on out of sight
on the lake side.

-1986
---
The constant swish-swish of skis
On a day long ski.
The constant swish-swish of wiper blades
On a day long drive.

-1990
---
My dog, trotting barefoot
Steps on a garden slug
And thinks
Nothing of it.

-1999
---
Word spreads quickly
as I approach the pond.
All becomes quiet.

-1997
---
Hidden in the vines
a large warted cucumber
jumps out of reach.
A toad!

-1997
---
Delicate puffs
of marshmallow snow
carefully perched
on a branch,
await the trigger of my hat
to melt their way down my back.

-2010
---
Deep in the tomato jungle
Fruits of yellow, purple and red
Tell of their readiness
To go to market.

-2010
---
Sugarin' Chores
Snowflakes hurry through my flashlight beam,
As my boots knead new snow with spring mud,
On my nightly Hajj to keep the boil alive,
For as long as possible until the dawn,
To match the power of the flowing sap,
With my meager evaporator and will.
The prize at the finish line are jars of syrup
And Spring.

-2013
---
History of Snakeroot Organic Farm
by Tom Roberts
Also see our 2004 article From a Run Out Hayfield to a Prosperous Organic Farm in Ten Easy Years and our yearly schedule of farm work.
This page lists only significant development milestones in the life of the farm.

1995 1996 1997 1998 1999 2000 2001 2002 2003 2004 2005 2006 2007 2008 2009 2010 2011 2012 2013 2014 2015
---
In the beginning . . .
Lois & Tom met in the winter of 1990, and in the spring Lois moved to Peacemeal Farm in Dixmont where Tom had been working since 1980. In 1990, Tom's mother Dorothy moved there, too. In the spring of 1995 we decided to buy our own place. We found our new place in Pittsfield, a run-out 8 acre hayfield in the midst of 74 acres of partly cut over woods on the Snakeroot Road. In the fall of 1995, we moved our mobile homes onto the land and started to farm.
---
Summer '95
We purchased land in May, began moving our stuff to the land.
We continued going to farmers' markets with produce from Peacemeal, but now as "Snakeroot Organic Farm".
Purchased Kubota L2900 tractor with bucket, rototiller, wood chipper, grader blade, tool bar with disks, and bush hog from Dorr's Equipment in Bangor.
Had Irving's Spreader Service from Clinton spread lime on the fields.
Began Upper Perennial Garden, Upper Veg Garden & Lower Veg Garden.
Fall '95
Built Back Shed to store GH & veg packing supplies, lumber &ct. David & Susan help.
Red brought over shed roof and placed it next to Garage to make Garage Shed. David helps build walls.
Eric Souther & Malika Osborn moved bus into woods and build shitter & attached woodshed while they stayed the winter.
---
Summer '96
Began Middle Veg Garden & Lower Perennial Garden.
We begin selling in Pittsfield, and decide to start the Pittfield Farmers' Market.
Fall '96
Had Dick Webber pour slab for Addition and slab under Garage Shed.
Built Greenhouse Shed to hold GH & veg packing supplies.
Built addition onto Back Shed almost doubling it's size.
---
Spring '97
Erect Greenhouse with help from Jim Richmond, Jim Freeman & son Rory, Jim Stockwell and Ray Gorman. Jim Freeman's scaffolding comes in very handy.
First Pittsfield Farmers' Market, made $10 the first day.
Summer '97
Pittsfield delivers several loads of municipal chips. Built root cellar covered with Chips, but it doesn't work.
Fall '97
Built addition onto GH shed.
Built Addition roof, using local cedar poles and lumber from shed disassembled at Peacemeal.
Built lumber shed addition onto Back Shed. Covered with GH plastic roofing.
Pittsfield delivers several loads of leaves, bagged & loose.
---
Summer '98
Asplundh begins delivering chips, perhaps a dozen loads. Used mostly for fill and apple tree, Lower Perennail Garden, and teardrop garden mulch. LPG mulch is over newspapers.
Began Middle Perennial Garden & Well Garden.
Lois began attending Unity Farmers' Market its first year.
Fall '98
Leaf rakers begin deliveries. We advertise for leaves in The Community Newspaper.
Built Sunroom around South & West walls of Addition. Brought up cement mixer from Wilmington after Thanksgiving and began pouring Flagg form wall as base. Finished placing last of Hyzod after first snow in early January with David's help.
---
Spring '99
Carrots, scallions, lettuce and beet greens harvested during May from our first winter GH plantings.
Attended first MOFGA Spring Thing. Made over $400 on plants & early GH veg in 2 days.
Summer '99
Asplundh delivers dozens of loads of chips. Used for mulch in apple trees, cukes & ssq, garlic, spread on hay fields (extra heavy on field access roads), spread on Middle Perennial Garden with rye cover, and part of Lower Veg Garden with rye cover. Also used to level woods trails, which turns out to be a waste.
Began Squash Garden next to Lower Veg Garden.
Dick Treadwell pounds well for GH & fields. Cost $2800; depth 130 ft.; yield 5 gpm.
Amy Pawelczyk and Jim Buckle work the summer.
Jenny Mugrace, Molly O'Neill and Wendy Miller begin work picking beans and keep coming back to help with cordwood wall in winter.
Fall '99
Rebuilt Sunroom with vertical walls on south side.
Built 8' x 8' Cooler in Washing Area.
Built & filled woodshed behind house. GH plastic roof.
Almost finished filling in field ruts at start of Ruts Trail.
Sold first Echinacea roots.
Pittsfield delivers 4 loads of leaves. Three leaf rakers deliver a dozen or so loads of leaves. Leaves delivered in 1997 and piled to rot were added to GH beds.
Lois begins work at Sebasticook Health Care Facility for the winter.
---
Winter '00
Built first Sap House at junction of Malika's & Big Stump Trails. Used old GH plastic for roof.
Bought Waterloo-Small sap evaporator, $925.
Added new GH Plastic layer to lumber shed.
Finished north cordwood wall of Addition. Includes 3' x 6' window and fan vent, cold larder and door to Woodshed.
Sold first winter storage carrots to Nagle Local Produce Co.
Ordered drip irrigation system enough to water 7500 linear ft. Our 5gpm well can water 1000 ft at a time.
Began work on Farmers Retirement Plan.
Spring '00
We join the startup Fairfield Farmers' Market.
Summer '00
Suzanne Charles set up a tent on the Bus trail and worked for several weeks.
---
Winter '01
Lois works at Sanfield for the winter.
Alex DeLuca helps build beginning of apprentice house with cedar logs. Also helps gather firewood.
Spring '01
We build cedar pole greenhouse and cover with old greenhouse plastic.
Summer '01
We mix grass clippings with wood chips to make our first "vegetarian" compost.
Wage workers include: Alesio Canu, Breanna Norris, Jacobi Ballard, Lori Labbe, Rose Roy, Bruce Ferguson, Lynn Pussic and John Brewster, and several young bean pickers.
Irvin and Bruce build us an octagonal picnic table.
Fall '01
Began filling in wet spot in Hobbit Trail with rocks to better access back woodlot.
Purchased a 14' x 60' greenhouse and erected it in the Upper Perennial Garden.
Built an addition onto outdoor woodshed.
Four leaf rakers are now regularly delivering. One comes all summer with grass clippings.
Pittsfield delivers 2 loads of bagged leaves.
Purchased Troy-Bilt 5 hp Bronco tiller from Huff's for use in the greenhouses.
---
Winter '02
Lois worked at Sanfield for the winter.
Finished entrance wall to addition. Insulated more of the Addition ceiling. Insulated Cold Larder door and back door. Worked on brick walls between Addition and Sunroom.
Worked on completing the Orchard Trail as a woods road loop.
Began thinning new sugarbush area behind bus hill.
Ran maple line to 17 more taps next to bus hill.
Brushed out maple main line route to new sap house site.
---
Winter '03
Lois worked at Sanfield for the Winter.
Built new Sugarhouse 300 feet further downhill from the original one. (Dec '02)
Summer '03
Began opening up another field, the Southwest Garden.
Lindsay Clark lived here as an apprentice for June, July and August.
Tracey Hezelton worked here from spring to fall.
---
Winter '04
Lois worked at Sanfield for the winter.
Ran the West Line from the new Sugarhouse and cut several cords of fire wood clearing that new section of the sugarbush.
Spring '04
Added a wood and rolled roofing roof to half the sugarhouse.
Planted raspberries and grapes (on trellises) in the new Grape Garden.
Lois puts up 100 quarts of syrup.
Tom builds large addition to back shed.
Two humdred foot asparagus bed planted in Upper Garden.
We buy, disassemble and move here a 27' x 50' greenhouse from Dixmont with help from Bruce Ferguson and Megan, Jeffrey and Zach.
Summer '04
Tracey Hezelton worked harvesting washing, prepping veggies, and into the fall helping with the firewood.
Tom's brother Jim brings up a metal carport.
Reeve Moreau and Dena Foster worked for most of the summer.
A replacement stove added to the Big Greenhouse.
Fall '04
Tom's mother Dorothy moves back to Massachusetts.
---
Winter '05
Lois worked at Sanfield for the winter.
Added another 30 maple taps on the East Line. Clearing ashes and maples from this area below and beside the Lower Perennial Garden provided us with several cords of excellent firewood.
Cut many shading popples from next to the Middle Garden.
Cut 90 six-foot cedar fence posts for Hanne Tierney.
Spring '05
Cut many shading popples and birches from beside the Upper Garden.
Moved the burdock pile and smoothed out an area for a new greenhouse. The same project saw several young apple trees moved to the Apple Garden.
Gail Shields worked in the greenhouse for several days planting seedlings.
Lois puts up 108 quarts of maple syrup.
Lois plants more raspberies and some highbush blueberries.
Lois and Tom each get new market vans.
Spring leaf deliveries amount to nearly half the previous fall's deliveries.
Summer '05
Tom was asked to be mentor to Mitch Miller, the MOFGA Journeyperson at the Garcelon House project in Troy.
Sarah Leavitt worked two days a week most of the summer picking and washing veggies and weeding. She was Tom's helper at Orono Market a few times.
Amy Avelar and Webi Bingham work for the summer mulching and weeding and bean picking; Webi continued into the fall picking.
Emily, Kate and Jill Wrin worked here mulching, weeding and bean picking.
Lori Labbe worked washing and prepping veggies and picking. Debbi, Jeff and Zach Ferguson picked beans, weeded, planted and other odd jobs.
Fall '05
Mitch helps at the Orono Farmers' market.
Jack Cozart begins working at the farm.
Jack, Mitch, and Dorothy Pappadakis help erect the 27' x 48' frame for our fourth greenhouse.
Jack, Mitch and Dorothy ask to become apprentices for the 2006 season.
---
Winter '06
Lois works only a few days a month at Sanfield.
Mitch and Jack join the farm as apprentices. Dorothy leaves.
Tom & Jack rebuilt part of house woodshed roof.
Tom brushes out a path for the new South Maple Line.
Firewood cut from the sugarbush from the Middle Trail to Malika's Trail, and at the top of the hill on the Bus Trail, freeing up more maples to grow unimpeded.
Tom & Jack built firewood shed/shelf greenhouse for GH1 wood.
Built Mitch's shed along Bus Trail.
Built Jack's woodshed and composting outhouse at old bus site.
Cleared Spruces from orchard, using poles for GH5 & GH6.
Spring '06
Covered GH4, and built end walls.
Built GH5 and GH6 from cedar and spruce poles with Mitch and Jack.
Extended Upper Garden Asparagus patch to full length of garden.
Mitch begins growing mushrooms.
Mitch begins attending new Waterville Farmers' Market on Thursdays.
GH1 gets upgraded electrical service by Joe Almeda.
Mitch attends Skowhegan garden club plant sale.
Cooler gets a cooling unit, installed by Rob Hall.
Expanded Squash Piece two beds to the east; and Lower Perennial Garden one bed to the West.
Grafted Redfields onto Apple Garden trees; grafted trees along Upper Garden, behind trailer and in orchard.
Built whole set of "aisle tables" for GH1 seedlings.
Upgraded Grape trellis.
Fall '06
Upgraded Bus Trail out to Apprentice Cabin site with $700 worth of crushed rock and gravel, plus stones from around the farm.
Jack, Coco and Tom built apprentice cabin.
Added seven more taps at top of bus maple line behind cabin.
Lois planted GH3, GH4 and GH6 with greens in November to see how they overwinter.
Lois planted GH1 with all beet greens in December, the earliest ever.
---
Winter '07
Work on the apprentice cabin continues.
Built shed around two sides of the apprentice cabin.
Tom built second woodshed at apprentice cabin.
Fall '07
Jack & Coco laid down hemlock flooring in their cabin.
Lois planted GH1 to beet greens, GH4 to spinach, GH3 to scallions.
Tom developed separate storage areas for drip tape of different lengths from different fields to be stored separately to simplify re-using the tape next spring.
Tom built a freestanding woodshed for the maple sugarhouse which will accept incoming 4 foot long firewood, thus allowing the firewood for the season two years hence to be stored under cover for the first time.
---
Spring '08
Tom and Jack build a 140 foot long grape arbor from cedar poles in the Grape Garden.
Summer '08
Bud Glencross offers us the use of some of his adjacent land to expand our gardens. We opt for a two acre section, and once it is mowed in July we rototill the sod twice and plant buckwheat as a green manure crop.
We buy a new set of tines for the Kuhn rototiller from Dorr's Equipment.
A three-season water line is run out to the new summer kitchen at Coco and Jack's.
Fall '08
We buy two bed formers and four used greenhouses from Dale Penney. Now we have to figure out where to put the greenhouses.
We buy a 18 yard load each of crusher dust and 1½ inch rock from Frank Woodworth for repairing and upgrading farm roads.
We buy a Ford Econoline 350 dual rear wheel high cube van so we can haul more to our biggest markets. Can't get it inspected, so it becomes a storage vehicle.
We buy a Swihart P-015-655 Mist Blower for spraying potatoes, curcurbits, grapes, apples and perhaps broccoli.
Jack plants rye and oats for a cover crop on the new Glencross Piece after Tom disks in the buckwheat. We have decided to divide the piece into four 90 ft. by 250 ft. sections, approx. ½ acre each.
Tom clears the area above and behind GH1, and builds a woodshed in back for the second wood stove.
Tom clears the area behind the cooler and builds a shed for storing the remay that's rolled on pipes.
Coco disassembles the shelf greenhouse. We construct another one in its place.
We purchase a one person motorized augur to make holes for greenhouse pipes.
---
Spring '09
Tom begins clearing back the woods below the Blackberry Garden, generating many spruce poles and some firewood.
Tom grafts several apples on May 1 & 2; only a few take.
Tom, Jack and Coco rebuild and enlarge the Vegetable Washing Area.
Tom and intern Mike build a new larger Shelf Greenhouse, using cedar slats from Pittsfield's Maine Fence Co. for the shelves.
Tom builds a new Outdoor Potting Shed that will hold all of our potting materials beside being a cooler place to pot up plants and start seedlings.
Tom attends the Pittsfield Job Fair at the end of May and gathers about thirty names of potential summer workers. One of them is Elmer Falloon.
Summer '09
Mike Stenta, Prisna, Kitu, and Jarrett Haiss live in Dorothy's trailer while working here much of the summer.
Glencross Piece first crops planted to potatoes, winter squash, beans & peas, and PVO. Later spinach, daikon and beet greens. Most crops do well.
Elmer and Shannon Faloon begin working here, mulching onions and tomatoes. Elmer continues on Saturdays into the winter.
Summer hourly workers: Holly Zadra, Lori Labbe, Megan Labbe, Vaughan Woodruff,
Jack and Coco leave at the end of August.
Fall '09 (Oct-Dec)
Lower shelves added to Shelf Greenhouse and onions and winter squash are stored there until cold weather arives. Vents cut in upper back corners.
We purchase a pipe bender from Johnny's to make 6 foot wide tunnels over crops.
We discover Dorothy's oil tank has leaked. We get the DEP out and they dig out oily soil and will be testing our house well for a couple of years.
Work on two story Barn begins by Tom & Elmer.
Old Troy-Bilt Bronco traded in at Huff's for new model Bronco.
---
Winter '10 (Jan-Mar)
We buy a 2010 Subaru Outback in late December '09, since after its accident the '97 Ford Escort isn't worth fixing and probably wouldn't pass another inspection anyway. We keep the Escort to use as a farm vehicle.
Fall '10 (Oct-Dec)
Dan, Jay, Mike, Casey and Elmer help cut back woods by 100' next to Southwest Garden, producing poles and firewood.
GH 2 taken down. Topsoil stockpiled by burdock garden. Hole filled with rocks and topped with gravel, bought from Joe Santos from Canaan.
Poles from woods cutting used to frame New Barn where GH 2 once stood. New Barn completed in December.
Half inch black plastic irrigation supply pipe installed leading from our wells up to the Glencross Piece, so that crops planted there can be watered next year.
---
Fall '11 (Oct-Dec)
Plastic Shed built for off-season storage of plastic sheeting and conduit hoops.
Covered frame constructed over employees lunch table near bog.
Purchased three loads of gravel to have on hand for firming up farm roads next spring.
Jason and Sonya move onto the farm after working here two years.
Jason, Dan and Tom cleared around maples from the Middle Trail to the Plastic Shed and added 15 more taps to the South Line.
---
Winter '12 (Jan-Mar)
Jason & Tom cut wood around Orchard and complete the Orchard Trail, along with Dan and Elmer. Open winter allows lots of firewood to be brought in to the house, sugarhouse and greenhouse.
New Rhubarb patch started next to driveway.
Many wild apple seedlings around fields are grafted to Baldwin, Redfield, Northern Spy, and Golden Russet.
Several apple trees in the orchard are grafted to Liberty.
Elmer spreads gravel on field roads.
We start Someset and Reliance grapes in the Round Garden.
---
Winter '13 (Jan-Mar)
Greenhouse 6, our remaining wood-framed greenhouse built in 2006, collapses under slow load. Once the snow leaves, we remove the wood and plastic, and replace with a metal frame 17' x 60' greenhouse. Ryan Frati, Ryan Lowe, Jesse Moquin and Jason Gavitt work on it.
Plastic on GH1 tears mid winter, leaving the greenhouse half uncovered until mid March when a single layer of new plastic is put on with the help of Jason, Alyssa & Mike.
Many wild apple seedlings next to Squash Piece are grafted to Baldwin, Redfield, Northern Spy, and Golden Russet.
We grow several flats of tomato and hot pepper seedlings on contract for Fedco Seeds seed grower Alan Reynolds from St. Albans.
Summer '13 (May-Sep)
In May we buy a new market vehicle: a 2008 Chevrolet Express box truck. In June we have a vinyl sign added to the sides.
Summer workers include: Ryan Frati, Ryan Lowe, Jesse Moquin, Evan Labbe, Elmer Falloon, Lucas Ferguson, Jayson Gavitt, Alex West (and a one day a week crew from MeANS), Nevin Goewe, River Masse, Lori Labbe, Debbie Ferguson, Alyssa Van Ryswood, Hanna Wardwell,
We have the Ford Escort and the Black van hauled off to be crushed.
Tom & Lois were mentors for Jeffrey Knox and Abby Lydon of Woodsholm Farm in Newcastle. Tom had met Jeff & Abby at the Ag Trades Show in January.
Fall '13 (Oct-Dec)
New Sugarhouse and woodshed are built with the help of Alex, Elmer, Jess, Ryan, Jason & Alyssa.
After market season is over we dry two thirds of the kale left in the garden before the deer eat the rest. Dried kale has been selling really well, as have several other dried veggies.
We store 3 pallets of unwashed carrots at Coastal Farms for $15/pallet/month.
We begin to send out a monthly winter availability sheet to a selected email list.
We get our first Elephant Garlic Corms from Bobbett Jascor of Liberty, KY and begin experimenting with them.
---
Winter '14 (Jan-Mar)
---
Winter '15 (Jan-Mar)
Very deep snow arrived late and stayed late (Apr). Sugaring season was fair. Growing season off to a late start. Caught up by end of May.
Spring '15
Mike Brann and helper put a steel roof on both trailers and the workbench shed. One foot extensions on our roof seems to have stopped the leaks.
Jason Gavitt, Elmer Falloon, Shawn Falloon, Debbie Sinclair, Mike Brann & Noah Sinclair plant onions, shallots & leeks in 19 beds in GP-4.
---
---