Danny Dupras would have been 20 years old next July.
He was a well liked boy, who grew up in Wilmington, and who died last Thursday, in a Lowell hospital, as the result of an automobile accident.

According to his friends Danny was the victim of "over-compensation". He was making up for the fact that he was a polio cripple by buying fast cars -- and then making them faster.
Wilmington's Chief of Police, Paul J. Lynch, has another term for it. He says that Danny was 'an involuntary suicide'.
Many Wilmington people can remember when Danny Dupras was in the grade schools, in this town. He had to go on crutches, and it was a struggle for him to learn to walk. By the time he was in the fifth and sixth grades he was able to get along with a cane, and by the time he was in High School he sometimes could get along without an artificial aid. But Danny was a polio victim -- and his smiles, his good nature, did not hide the fact.
When he as sixteen he bought his first car -- a 1957 Plymouth. Since then -- less than four years, he has owned four cars, each more powerful than its predecessor.
The last car -- the one he was killed by, was a 1964 Corvette.
He bought it last December. It had a 300 horsepower engine. He took out the carburetor, and put in a dual -- four barreled substitute. He raised the cams in the engines. He stepped up that 300 horsepower to 364 horsepower.
There were boys who would not ride with Danny. He just drove too fast. He would take trips to Maine, to attend the stock car races, and sometimes he just had to go alone.
A week ago yesterday, speaking of his Corvette, Danny told Everett Aubrey, of the Charles River Breeding Laboratories, that ' the rear end was too light'.
Danny was working at the Charles River as a technician.
And a week ago yesterday he left, at the end of a days work, to go home. Mr. Aubrey just happened to be the next man, who drove down Ballardvale Street.
One hundred yards north of the remains of the old Tweed-Manning house was his Corvette -- turned over, crushed.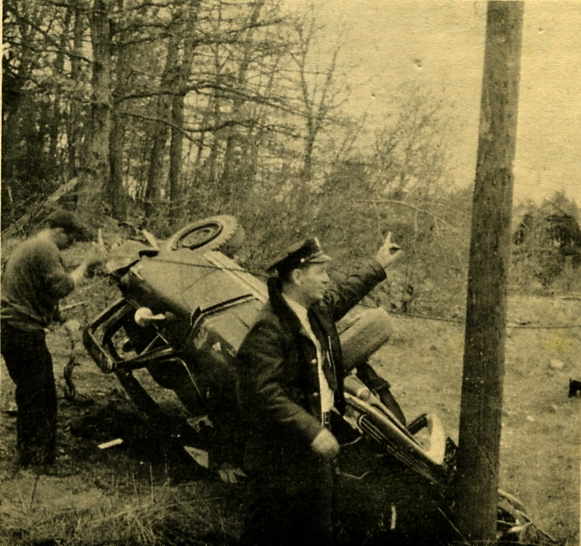 No one knows how fast Danny was going, as he sped around the corner, but the skid marks in the grass -- on the wrong side of the road -- told the story.
Danny had turned the corner too sharply. He had found himself driving in the grass, on the left side of the road. The skid marks were 135 feet long, and ended at a lightpole. Danny had been thrown through the windshield. He landed 55 feet further down the road, broken and dying.
It was Everett who sent the next passerby for an ambulance. It was he who could reflect on the statement made less than 24 hours previously, about the rear end being too light.
But it was Danny Dupras who died -- an 'Involuntary Suicide', the Chief says.

(Submitted by Tom Roberts, 1-Mar-04.)
---
Wilmington Man Dies in Crash
from The Valley Advertiser
Daniel L. Dupras, 20, of Andover St., North Wilmington, died of injuries sustained yesterday afternoon when the car he was operating overturned at Route 93 and Ballardvalle Street.
The son of Mr. and Mrs. Leo Dupras, the 1963 graduate of Wilmington High School was returning from work when he apparently lost control of the vehicle shortly after 3:30. He was taken from the scene to St. John's Hospital in Lowell, where he died at 7:25 p.m.
Wilmington Police officers Mercier, Ritchie and Dolan responded to the call. The accident is under investigation by Registry Officer Dom DeFeo.

(Submitted by Tom Roberts, 1-Mar-04.)
---
-- Testimonial from Jim Webster --