John Rich
from The Town Crier, Wilmington, Mass, February 23, 1967;
excerpted from an article about the wounded Cpl. James O'Hara returning home from Viet Nam.
---
. . .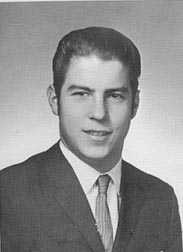 O'Hara was probably the last Wilmington man to see Johnny Rich, before he was killed in action near Da Nang. O'Hara told the Town Crier that he spotted Johnny on a truck, passing his camp, about four days before he was killed, and that he, O'Hara, ran beside the truck for a few feet to exchange the latest news with Johnny. Four days later Johnny was another casualty.
. . .
John died from a gunshot wound on August 25, 1966 near Phu Lof, Vietnam while on a search and destroy mission known as Operation Hastings. -- Alice (Chisholm) Shaffer, WHS Class of 1963

(Submitted by Tom Roberts, 1-Mar-04.)
---
Folks,
My name is Dann Sullivan; I am the Facilities Project Manager at Textron Systems. I grew up in Wilmington and have worked for Textron (AVCO) for almost thirty years.

Because I am a local boy, I was approached about twenty years ago or more by Fred Shine and the local veterans' organization wanting me to persuade AVCO to allow the veterans' organization to erect a monument somewhere on our property for a fallen Vietnam Vet., Pvt. John Allan Rich.

Of the four men killed in Vietnam, John Rich was the only one I did not know personally having grown up with Jack Fullerton, Richie Walsh and the Parent boy.

I am happy to say that with my help AVCO gave the veterans organization permission for erecting the monument which has stood since that time in a quite spot next to Lubber's Brook and Rt. 129 near our tennis courts.

We here a Textron have the utmost respect and appreciation for our veterans. Each year, we hold a large Veterans Day observance to honor those who have served America. At our last celebration on 11/11/09 this year I mentioned to the ranking veteran here that we actually had a monument to one of the fallen here on our property; which he wanted to know more about. Unfortunately, since I did not know John personally I could add no more information regarding who John Rich was, where he lived inn town or any of the other events which shaped his life that ended on Aug 25, 1966 in Quang Ngai, South Vietnam.

I promised the veterans that I would try to find out as much as I could about John and so, I turn to you because I saw your memorial page for the class of 1964.

I respectfully request that if you have any information regarding John that you share it with me so that I may share it with our veterans here and honor the name of one of their fallen comrades.

I thank you in advance for your help.

Respectfully,
Dann Sullivan
Facilities Project Manager
Textron Defense Systems
201 Lowell St.
Wilmington, MA 01887
Tel: 978-657-3441 (Direct)
Fax: 978-657-2522
dsulliva@systems.textron.com

(Submitted by Tom Roberts, 11-Dec-09.)
---
---