WHS 'Band in New Hampshire'
by Larz F. Neilson
Is there any life in New Hampshire after the primary? What happens after the pols and the press have departed?
With the primary moved up almost to Christmas, the winter looks like a long one. In years past, though, New Hampshire held its primary in mid-March, at winter's end.
In 1964, the Democratic side of the New Hampshire primary was fairly quiet. The primary was only four months after the assassination of Pres. John F. Kennedy, and Lyndon Johnson was unopposed.
The Republicans, though, had an active campaign season, with conservative Sen. Barry Goldwater of Arizona and liberal New York Gov. Nelson Rockefeller pounding the pavement and snowdrifts in search of votes. The GOP primary had a surprise outcome, but we will save the results for the end of the story.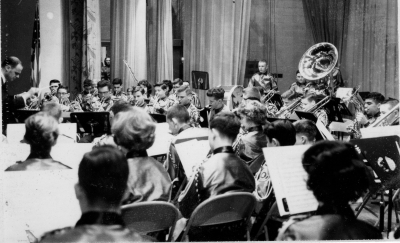 The politicians had barely departed when the Granite State was invaded by another group. The Wilmington High School Band traveled to Groveton, a small town about 30 miles from the Canadian border. Band directors Al Graceffa of Wilmington and Louis Micucci of Groveton had made arrangements for exchange concerts. Fifty-three students and three teachers boarded two school buses on Friday morning and headed north. They arrived in Groveton about 4 p.m. Friday evening, there was a large dinner, after which the students were put up in homes in town.
On Saturday, there was a morning rehearsal, not that the band hadn't been preparing all winter. Then on Saturday night, the two high school bands, Wilmington and Groveton, entertained the residents of Groveton in a joint concert.
Two weeks later, the Groveton band came to Wilmington. The Friday evening program was a dance at Villanova Hall. Admission was a can of food, which was donated to a charity.
Saturday evening, both bands played in the Herbert C. Barrows Auditorium, first Groveton, then Wilmington, and then a combined band.
The Groveton band played Yankee Doodle Boy, Born to be Free, Fascination, Victory, Bright Eyes and Sweet Adeline Rock. Wilmington's program featured Pajama Game, Clock Store and Tribute to Glenn Miller. The combined bands then played Scepter of Liberty, LaGolondrina, Fantasy for Band, I could have Danced All Night, Londonderry Air, The Phantom Regiment and the Liberty Bell March.
The evening did not end with the concert. The bands went to the high school gym for a dance.
The members of the WHS Band were: Wayne Aruda, Paul Bannister, Joseph Balestrieri, James Baster, Sandy Burns, Mary Ann Connors, Cory Coombs, Robert Cuoco, Deborah Curtis, Peter Farrell, Maria Ferrara, Kenneth Foberg, Andrew Giannino, Bobby Hand, John Harrington, Janet Harrison, Becky Hartwell, William Hudson, Judy Irwin, James Jackson, William Kennedy, Paula MacDonald, David MacEachern, Owen Marr, Kathy McCue, Pamela McInnis, Beverly McLain, Barbara McLain, Starr Michelson, Glenn Milley, Alan Milley, Andrew Morlani, Alan Newell, Noreen Nichols, Philip O'Brien, Thomas O'Hare, Paul O'Leary, John O'Reilly, Dwight Pembroke, Mark Peters, Paul Reitchel, Carlene Riccelli, Charlotte Rich, Carl Schiavone, Jeff Sheerin, Richard Shurtleff, Alan Small, Robert Small, James Solas, Nancy Sousa, Stephen White and David Winters.
The Junior High Band members were: Virginia Allen, Eugene Baldwin, Art Barnaby, Robert Barry, Ken Bedell, David Bodenstein, Ed Cuoco, John Cuoco, Robert Draheim, Elizabeth Emery, Don Gardiner, Alan Green, Diane Houle, David Johnson, Susan Keane, Albert Kelly, Doug Keller, Donna Kirby, Phil Krey, Gerald Land, Ray LePore, Tim Lounsbury, Dave Malone, Bill Mann, John McGuinness, Kevin McMillan, Bill Meehan, Art Mitchell, James Mitchell, Pam O'Hare, John Poisson, David Polsey, Paul Robertie, Steve Smith, Pat Sousa, Joe Stone, Andy Sullivan, James Williams, Marcia Winters, Joe Wood and Paul Zaverson.
Oh, the primary was won by former U.S. Sen. Henry Cabot Lodge, former U.S. Ambassador to the U.N. He was a write-in candidate who was not even present for the primary, as he was in Saigon, serving as U.S. Ambassador to South Vietnam. He received 33,007 votes to 20,692 for Goldwater and 19,504 for Rockefeller. Goldwater eventually won the GOP nomination, but lost the election to Johnson.
Pic: Al Graceffa, far left, directs the combined WHS - Groveton band. John O'Reilly is in the front row, at left. Paul O'Leary can be seen standing in the rear. Membrs of other classes who can be identified are, at left, Tommy Hand. Cory Coombs is behind O'Reilly. Jim Solas, Owen Marr and Glenn Milley are in the center of the pic. Directly below the tuba is Peter Farrell. At right are Carl Schiavone and Phil O'Brien.